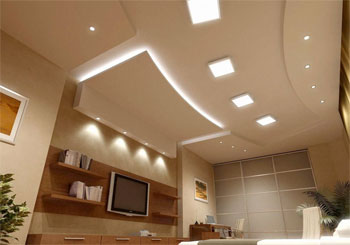 The false ceiling has come a long way since its invention back in 1958. Gone are the ugly tiles you used to see in any number of office buildings and instead a wide variety of different materials can be used to ensure that the new ceiling is good to look at as well as practical.
At Kow Yee, not only are we a false ceiling contractor for businesses in Singapore, but we also create modern, stylish plasterboard and gypsum board ceilings for the home.
With only the best materials cut and shaped at our warehouse, you can be assured of the build quality of your new false ceiling.
False Ceilings in Design
While their original use was to hide away unsightly units, cables and pipes – as well as provide extra sound insulation – false ceilings are being used more and more often as design features in modern homes.
One feature they provide is the ability to place LED lighting in the ceiling, offering you the opportunity to easily fit mood lighting to your living space. They also provide a great method of separating areas within a room: a change in ceiling material or texture can really differentiate different areas.
When you hire a false ceiling contractor in Singapore, you need to hire someone who knows not just the technicalities but the design too. At Kow Yee, a team of highly skilled, experienced contractors are able to fulfil these needs through their knowledge of the materials and fashion of the age.
Top quality raw materials are combined with expert knowledge to not only provide a casing for your new spotlights, but a design feature that will set your room apart from anyone else's.
In the office, too, Kow Yee can bring more than 100 years of combined experience to bear in providing the highest quality of workmanship, creating a work space that you can be proud to bring clients into.
With so many different possibilities to choose from, it can be difficult to know exactly what you want. So get in touch with the team at Kow Yee, and let us bring our experience to bear. Get in touch today for your free consultation.