Modern apartments can be fantastic places to live.  They're often constructed with energy saving materials and often maintain relatively consistent temperatures throughout the year. Yet the design can sometimes leave something to be desired.
Curtain Pelmets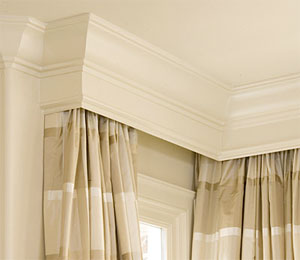 One of the things developers often leave untouched are the windows.  They serve their purpose and have a curtain rail up above so you can hang your favorite material.  Yet these curtain rails aren't the nicest things to look at.
Often made of plastic, they can be an eyesore.  So, whether you want to redesign the entire flat or just give it a spruce up, fitting curtain pelmets is a great start.
Of course, blinds and other window hangings can also be extended with a pelmet and the design can be matched to the feel of your room.  So from the warmth of your living space through to the calm and peace of your bedroom, this is a great way to finish off the room in style.
Light Pelmets
At Kow Yee, we only use the highest quality materials to cover up those eyesores and offer you another creative touch in your home or office.  What's more, window hangings aren't the only thing you can disguise with a well-placed pelmet.  Popular in kitchen cabinets – providing the light for the work surface – light pelmets can give you a satisfactory glow without any sign of the bulb itself.
It can also provides a secondary function here of directing the light, meaning that you illuminate only the area you want to: perfect for chopping those vegetables or making a late night pot of tea.
For the Office Too
Not just available in the home, of course, light pelmets come into their own in the office.  Whether you're looking to illuminate a work surface or provide some extra lighting in the boardroom, it can offer you a solution that fits into the sophisticated theme you want to show your clients.Whether they are pelmets for the curtain, kitchen light or anything else, at Kow Yee we use materials sourced from our own warehouse.
This way, you can be ensured of the quality and price of the basic materials used for the work. Curtain and light pelmets are one of the finishing touches to a great, renovated room, home or office.  Kow Yee can match these designs with false ceilings, partition walls, lighting and feature wall to  provide you with a modern and stylish home and office, perfect for all your needs.