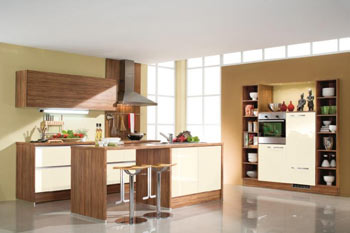 It doesn't matter how amazing your new feature wall is if you've got no furniture in the room.  When it comes to renovating your home, all those little details mean a lot: not just repainting the walls and adding some alcove lights.
So what better way to continue your theme than with custom shelving and cabinets.
Here at Kow Yee, we don't just fit your new false ceiling: we also put all the finishing touches to your home or office, including custom wall cabinets, kitchen cabinets and much more.
So when you start your renovation project, you can be sure that your home or office will be finished to a high standard.
Home Cabinets
At Kow Yee, we provide you with every storage solution you could need, from kitchen and bathroom cabinets to bookshelves and night-tables.  Everything is fitted perfectly to the overall design of the room and put together with only the best quality materials, sourced from our own warehouse in Malaysia.
Of course, along with custom shelving, you can have cabinets built in to your designs. TV Cabinets built into feature walls or walk in wardrobes built in to a new bedroom partition wall are two of the options available for you to really turn your house into a home.
Office Shelving
Perhaps even more so than the home, the office needs a lot of storage space. Filling up your workspace with ugly filing cabinets may not give the right impression to potential clients, however.
Instead, building in custom office cabinets – matching the design and layout of your workplace perfectly – not only solves your storage issues but creates an attractive space that you want to show off to potential clients.
Shelving and cabinets are not only the final details of a room, however, so it's important to make sure you've got the rest of the design right before you start.
From partition walls to false ceilings, at Kow Yee we can design your home in whatever way you wish.  New rooms and new designs for old rooms can completely change the feel of an apartment or office and make you feel right at home.