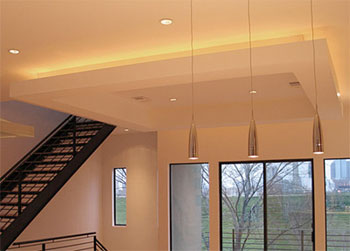 With the blandness of modern homes, it can be very tempting to rip it out and start again.  Thanks to renovation companies such as Kow Yee, however, you can turn your home into an area that fits you perfectly.
By partitioning rooms and installing false ceilings and feature walls, you can turn bland studios into creative spaces but if you want that little bit extra, there is something you can do.
Illuminate your Living Space
Cove lighting not only offers you a method to bring attention to features of your room, but can be a feature in itself.  Coupled with a false ceiling, this lighting can illuminate your room in a soft glow instead of the harsh brightness of regular lights.
What's more, it is a great way to install mood lighting into your home.  By placing lights that can change color; you can create a room that can be perfect for parties, relaxation or a romantic evening with just a flick of a switch.
Cove lights can be placed on the wall or in a false ceiling and can illuminate upwards or back down the wall.  By using multi-colored lights, you can create unique and creative designs that set your home apart from anyone else.
Catch Your Client's Attention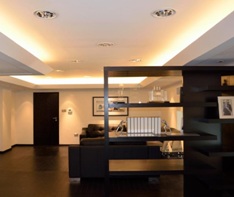 Not just for the home, though, cove lighting is perfect for the office.  As an unobtrusive fixture, these lights can provide the perfect mood for entertaining important clients.
From workmanlike to stately, the lights can reflect well on your company, instead of the bright glow from a normal fitting.  They can also be used to illuminate a company logo or feature wall: drawing visitors' eyes to something positive and informative.
Finished with Quality
Cove lighting is a great finish to any room and here at Kow Yee, you can find trusted, experienced renovation contractors who know just how to use this lighting to finish a room. Combined with a false ceiling, pelmet lights and feature walls, it can turn a drab and dreary living space, bedroom or office into a bright and beautiful place to work, rest or play.
By using only the best materials sourced from our own warehouse, Kow Yee keeps the price right and the quality high: perfect for your home and office.